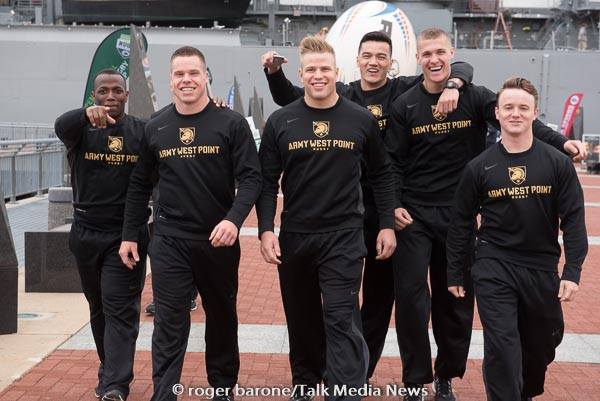 Army vs Navy Rugby players meet up on battleship
---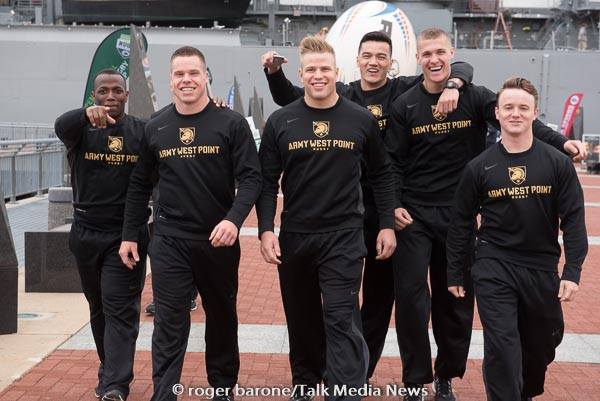 By Alex Lloyd Gross
In an effort to draw publicity to the Penn Mutual Collegiate Rugby Championship which will be held at the Talen Energy Stadium, on June 4 and 5 of this year. Two Military Academies brought their Rugby teams to greet people. The choice of venue was on the Battleship New Jersey, which is located in Camden , right across the river from Philadelphia.
The teams converged on the main deck and met fans before running through some drills and showing people what Rugby is all about.  They posed for photos with children and signed autographs. According to the press release:
The 2016 Penn Mutual Collegiate Rugby Championship is the world's largest collegiate rugby festival, featuring 24 of the nation's top men's collegiate Rugby 7s teams competing for the Pete Dawkins Trophy.  Also featured are 16 of the nation's top women's college rugby squads, as well as the small college men's rugby national championship and a boys and girls high school competition, all during the weekend of June 4th and 5th at Talen Energy Stadium in Chester, PA.  Rugby 7s is the world's newest Olympic sport, returning to the 2016 Rio Games this summer after a 92-year absence.
The Talen Energy Stadium is formerly PPL Park and  is located off of Highland Avenue in Chester Pa, near the water.