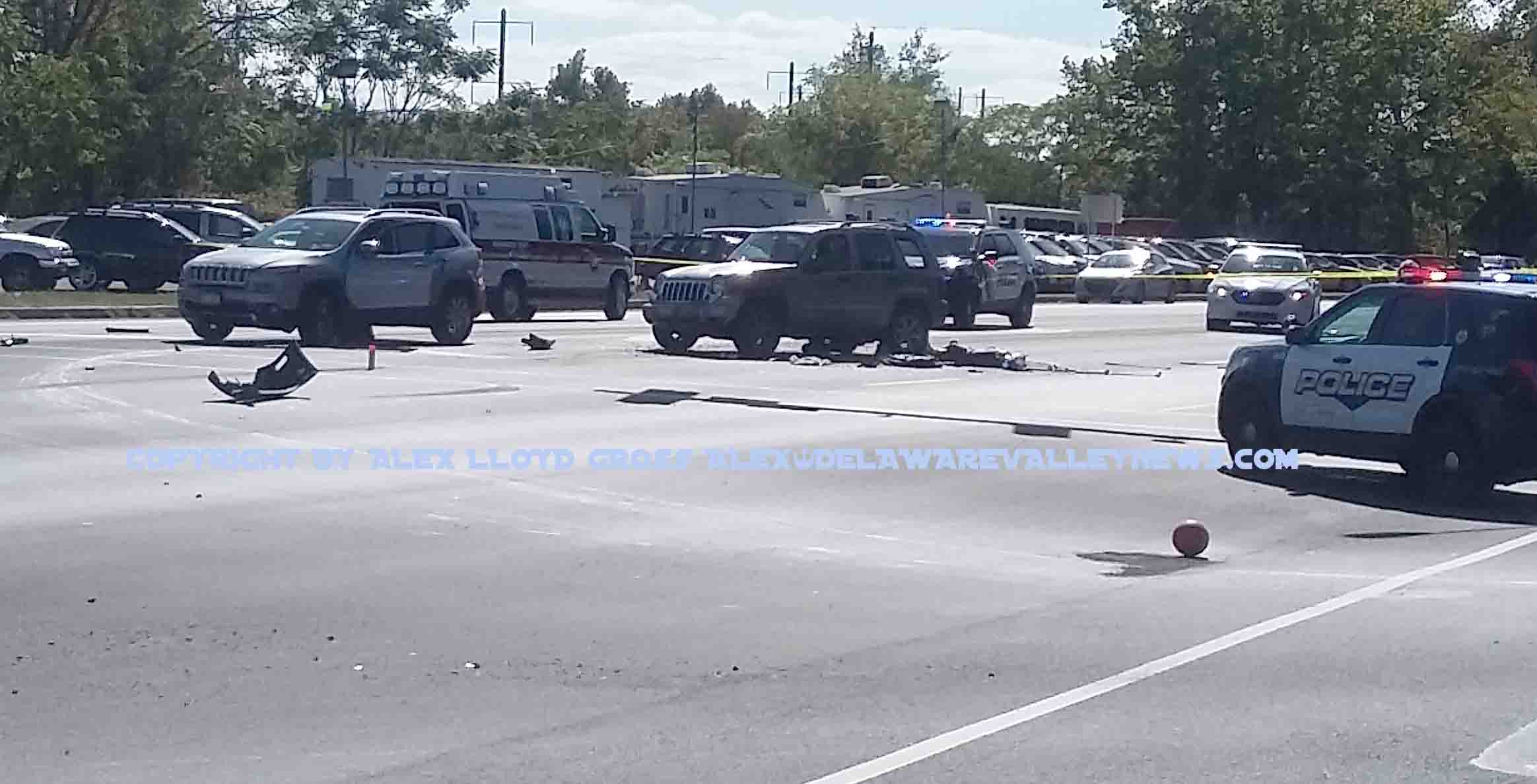 Shoplifting suspect kills son in crash, runs from scene
---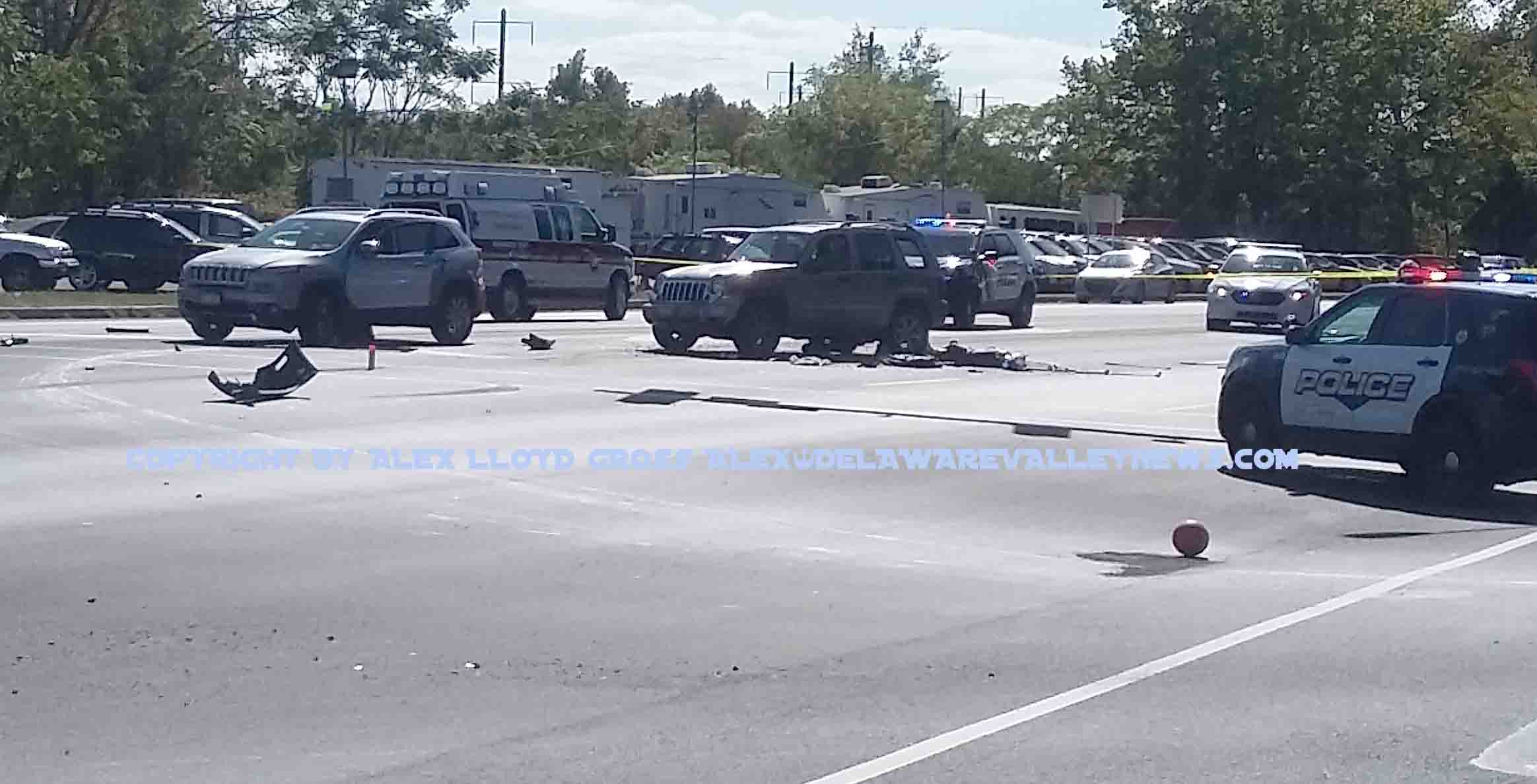 UPDATED 10/3/17 11:00PM.SUSPECT IS NOW IDENTIFIED AND OFFICIALLY CHARGED.
By Alex Lloyd Gross
A New Jersey resident is under arrest by Bucks County Pa authorities and will be charged with serious crimes,  police said.  The incident happened on  Route 13 in Tullytown just a few minutes after noon today, October 3 2017. According to Police Chief Dan Doyle, the suspect entered the Wal-Mart  and allegedly stole some audio speakers. The suspect, Christopher Kuhn brought his child in the store with him while he stole.  He refused to stop for store security and ran to his vehicle and obscurred the license plate  with a sweatshirt. As he  tried to flee the parking lot, he watched the cops coming towards his vehicle.
He accelerated out of the parking lot.  As the cops were trying to navigate around to exit the lot,  the suspect allegedly ran a red light and wrecked two other vehicles. "At no time did we pursue this car, and our dash cam proves that, this was not a pursuit", Doyle said.  By the time police were able to exit the lot, the crash happened.  While none of the other drivers sustained any injury at the scene, the suspects two year old son was ejected from the vehicle, after it was involved in the wreck. He was pronounced dead in spite of heroic life saving attempts by cops. Police did not say if the child was in a car seat.
The retail theft suspect then ran away on foot and reports  are that he was startled by the shouts of a utility worker who was in a cherry picker. That employee then told the suspect to stop, which slowed him down enough for police to catch him.  He was cuffed and placed in the back of a patrol car. A short while later, he started to scream and howl. It is not known if he was in pain or realized that he just killed his own son and left him in the road.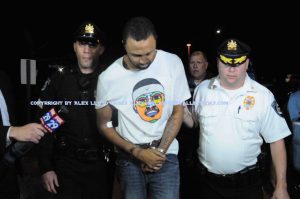 Route 13 was closed in both directions by Fire Police from Bristol, Tullytown and Falls Twps. for several hours.  Kuhn, of Hamilton NJ was arraigned by District  Justice Robert Wagner  on New Falls Road.  He was escorted into the proceedings by Chief of Police for Tullytown Dan Doyle. Kuhn tried to duck away from the media. He was quiet.  Once inside the courthouse, he let loose with howls and kept doubling over, sobbing. He did not answer any of the questions posed to him by the judge.  Kuhn refused to identify the identity of the two year old child.  Judge Wagner had to stop the proceedings multiple times to get the constables to stand up the uncooperative defendant, who would interrupt his arraignment with howls and sobs.
As the charges were read, he would double over and cry. He is charged with third degree murder,  endangering the welfare of a child, homicide by vehicle and related traffic offenses. Kuhn did not have a valid license. If he stopped for the loss prevention officer, he would have received a modest bail and most likely would have been home for dinner.  As the District Attorney requested a high bail of $500,000 , Judge Wagner simply set Kuhn's bail at $5,000.000. As his custody was transferred to  the Constables, Kuhn left the courthouse , for Bucks County Prison, and was quiet and reserved. There was no sobbing for the cameras.