A Woman's Place to Celebrate Contributions of Community Members at Annual Breakfast
---
Digital Staff 
The following is a release from A Woman's Place in its entirety as they continue highlighting Domestic Violence Awareness Month in October.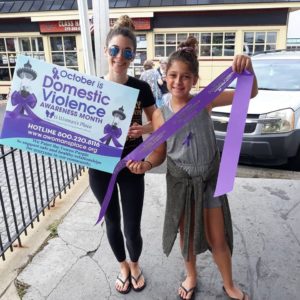 Domestic violence impacts millions of people each year, but it can be prevented. It requires the collective voice and power of individuals, families, institutions, and systems.
It is in this spirit that the community of A Woman's Place comes together on Tuesday, October 22, 2019 for their Annual Breakfast and Award Celebration to be held at Spring Mill Manor, Ivyland. Joined with other social service providers and community supporters, AWP celebrates those to serve and those who support.
Three awards will be given at the annual breakfast.
The Bucks County Opportunity Council (BCOC) will receive the Collaboration Award for supporting AWP efforts to improve services for individuals experiencing domestic violence. BCOC sets meaningful goals for diverse clients that reinforce their mission of reducing poverty and promoting economic self-sufficiency.
Thompson Toyota is receiving AWP's Community Award.  Thompson Toyota is a loyal partner of AWP by providing facilities to house our many training's. Thompson Toyota believes that each individual deserves the opportunity to flourish post-trauma and enjoy a life free of abuse.  We are honored to have Thompson's friendship.
Tam St. Claire is the recipient of AWP's Lifetime Achievement Award.
St. Claire has spent over 35 years advocating for women and girls within a variety of service and nonpartisan advocacy organizations.  She has created and present forums for citizens on key public policy issue to go beyond political rhetoric and work toward deeper understanding and systemic change.
"Many people understand that there are societal barriers to leaving an abusive relationship, including fear of losing custody of children, lack of support from community members and agencies, minimization of abuse, and re-victimization from institutions," said Brandy Shufutinsky, AWP Chief Operations Officer. Our award winners are doing more than their part to reduce domestic violence wherever it may present itself.

"All types of abuse are a traumatic experience to victims and effects nearly 1,000 new individuals in Bucks County annually. High profile cases of domestic violence attract headlines, but domestic violence affects all walks of life," stated Tammy Oliver, AWP Chief Executive Officer.
According to the Centers for Disease Control, 1 in 4 women and 1 in 9 men have experienced contact sexual violence, physical violence, and/or stalking by an intimate partner in their lifetime.1
"Right here is Bucks County, PA, A Woman's Place has served hundreds of victims of abuse and violence this year alone," added Shufutinsky.  "That is why we need everyone – advocates, medical professionals, educators, survivors, researchers, policy makers, law enforcement officers, business owners, students, and more, to raise awareness that stops domestic violence here in Bucks County."
To attend the annual breakfast please click here for information.
If you are the victim of domestic abuse and you are seeking help please call AWP's 24 hour hotline at 1-800-220-8116
For information on the services AWP provides to the community you can visit their website by clicking here