Old Nuclear Missile Silo Vent Cap Stolen In Bucks County
---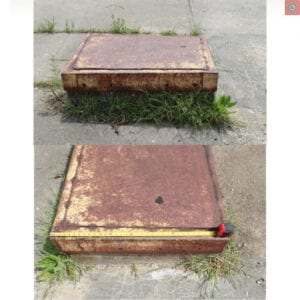 by Alex Lloyd Gross
You do know that areas in Bucks County used to house missile silos,  during the height of the cold war.  These sites existed in Bensalem, Bristol and Northampton Twps. Some were placed to protect the old Willow Grove Naval Air Station.
Eventually these sites were decommissioned and the weapons were taken out.  The holes left by them were capped shut by metal plates.  A remnant of times gone by.  They have been sealed shut and have been mostly forgotten about. On August 24, 2020, police in Northampton were called to the civic center grounds to investigate the theft of one of those caps. It most probably was taken by a scrapper, hoping to get money for it.
The complainant was walking her dog in the area of the old Nike missile base located on the Northampton Township Civic Center grounds (Rt.332) when she noticed that one of the concrete shafts was missing the steel cap, exposing an approximately 20' deep hole leading to the underground silo. She walks her dog here regularly and believes that it could have disappeared within the last two weeks or so. Upon further inspection, it appears that a second cap had an unsuccessful attempt to remove same from the other silo. The cap is approximately 45"x35" and had yellow paint on same. It is well worn.

If anyone believes that they have come across this unique piece of scrap metal on an investigation, please contact Det. Stark at
ps****@nh***.org
or 215-322-6111.
With the cap gone, a 20 feet hole sits in it's place. That hole could injure someone, or trap an animal or even a person..