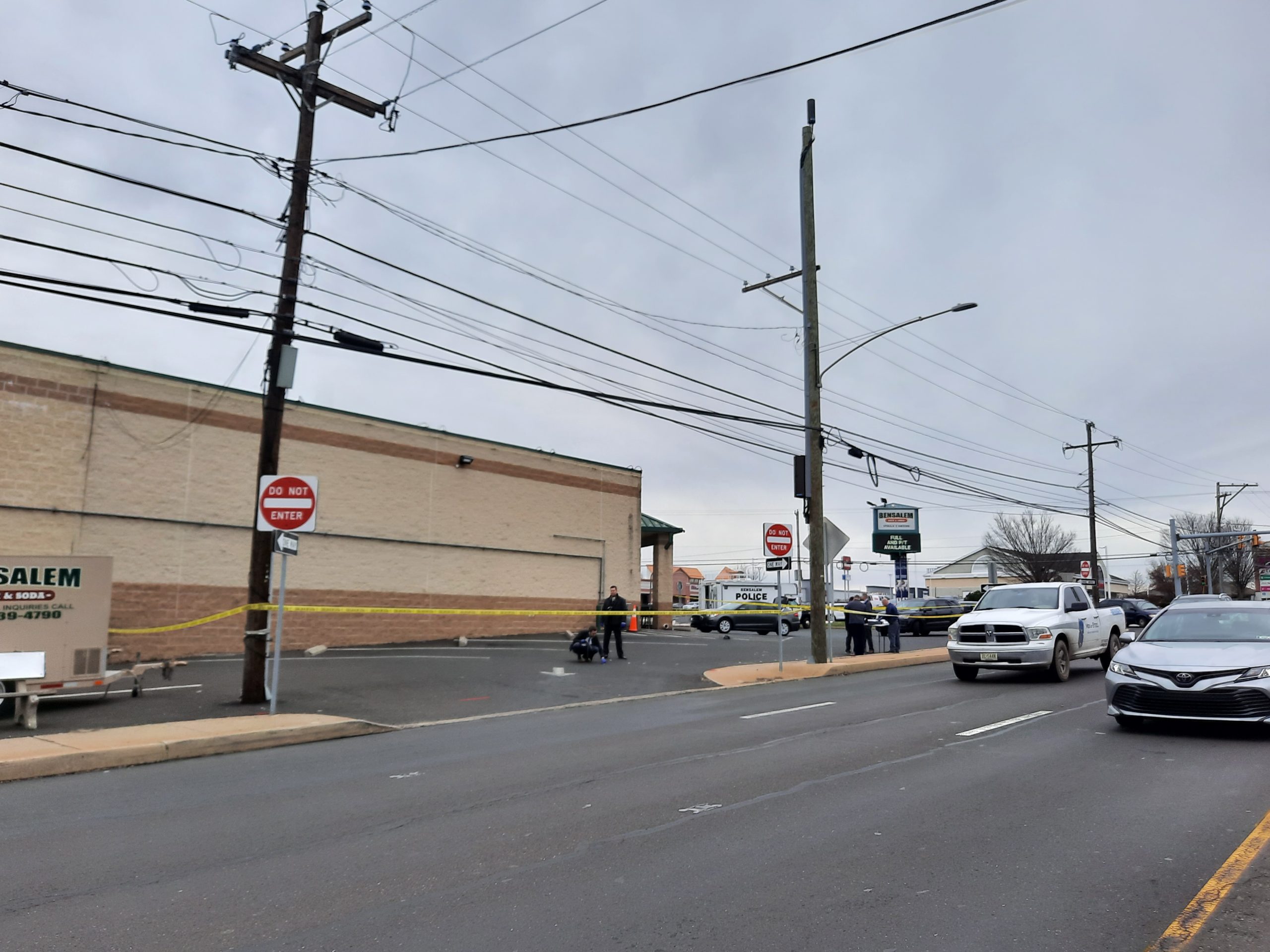 Large Crime Scene On Street Road Parking Lot In Bensalem
---
Dawn Altstatt Photo-Special To Delaware Valley News.com  Crime scene officers work the scene.
UPDATED MARCH 30 2022  8:30 pm
Bensalem Police confirmed that there was an assault that took place at the Bensalem Beer and Soda Outlet  at 8:43 AM when someone called them about  clothing and blood on the parking lot.  When police arrived, they did find the parking lot had blood and clothing and initiated an investigation.  Security cameras were reviewed and a serious assault was captured on film at about 1:40 AM.
Police said there was no shooting and that they were trying to find the two people involved. There was no mention of any weapon. Police confirmed that there was no homicide.
According to Detective Sgt. Glenn Vandegriff, there were numerous vehicles that passed by as the altercation was occurring. The passenger
of a white SUV stopped at the intersection, climbed out of the window of the vehicle to look at the 2 subjects then the vehicle drove away without contacting police. We would like to speak with the persons in that white SUV or any other witnesses that may have information.
Bensalem Police spent hours in the parking lot, looking for clues as to the identify of those involved and also to determine what happened.  If anyone witnessed anything, they are urged to contact Bensalem Police at (215) 633-3719.
The original story, which was written at 3:30 PM was based on what sources said they heard happened. We put in the article that none of it was confirmed, and we were getting the same info from multiple people.
The original story is below.
by Alex Lloyd Gross
March 30, 2022
Bensalem Police put crime scene tape around the Bensalem Beer Distributor located on the corner of Street and Hulmeville Roads. Multiple sources tell Delaware Valley News  that this was to investigate a shooting.   Police did not confirm that. We are waiting on confirmation and motive from police sources .
Unconfirmed reports say that this was a result of an altercation inside the store.  The store was closed while the investigation was being done.    The incident started about 10:45 AM March 30, 2022.
Social media was full of speculation as to what happened, with unfounded reports of an accident to a homicide.  Neither of those rumors are true..  This story will be updated later this evening, when we get confirmation on what exactly happened. That update will include any corrections and additional details released by police.