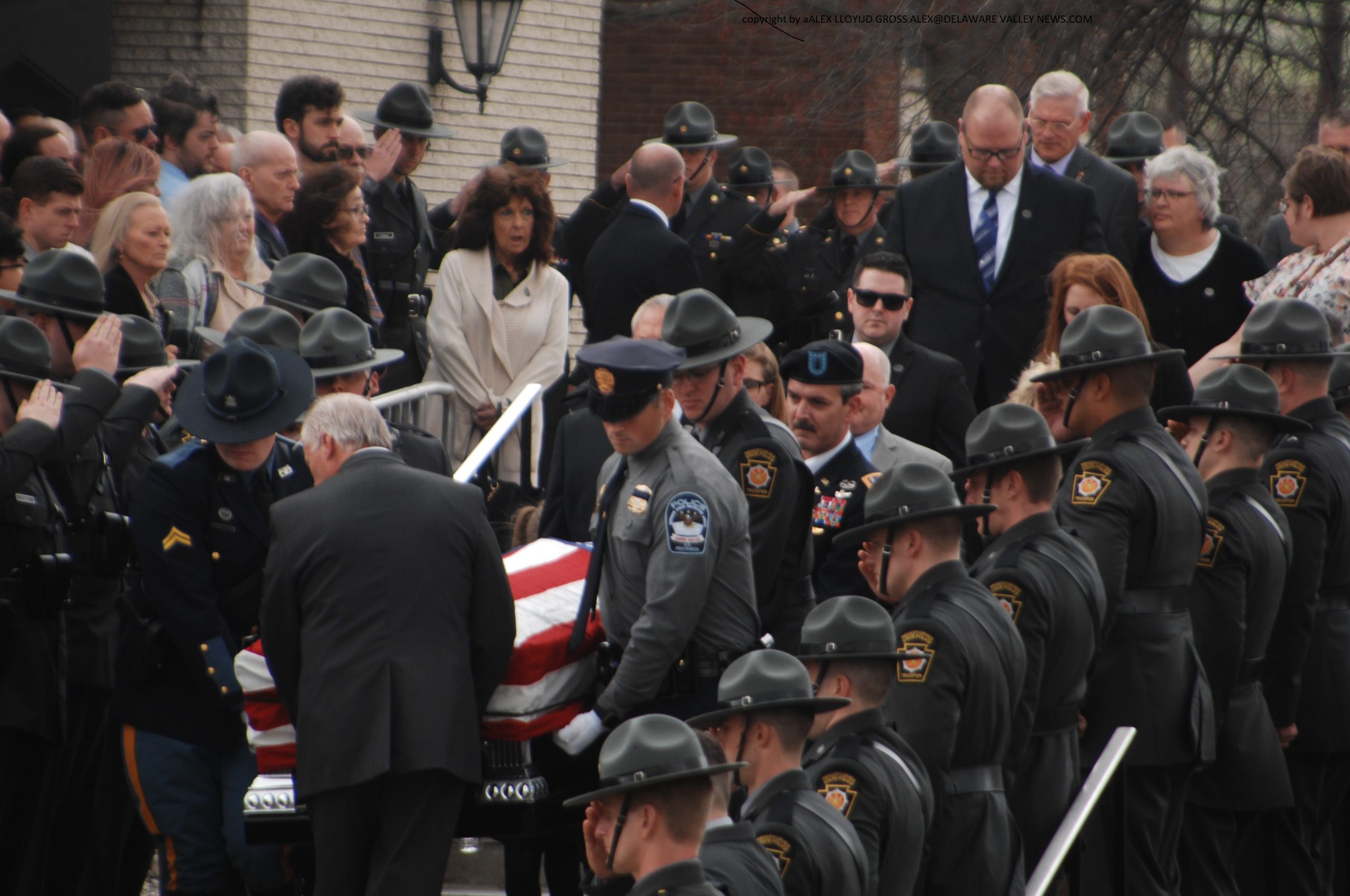 Thousands Pay Respects To Trooper Martin Mack
---
by Alex Lloyd Gross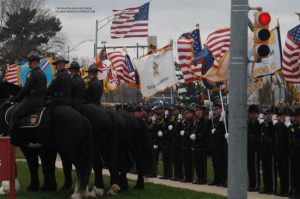 Pennsylvania State Trooper Martin Mack was killed in the line of duty.  Today, March 31, 2022 was his funeral. thousands showed up from across the United States to say "Goodbye".  They were police from Kentrucky, Texas, Idaho, Minneapolis, Massachusetts and even farther out,  who came out to support him and his family. Few of those officers knew Trooper Mack but they wanted to pay their respects anyway. They did not let a thing like distance stop them. They drove, or bought plane tickets.  They are here for a week, to pay their respects to Troopers Mack and Branden Sisca, who will be buried this weekend.
In Lower Bucks County, members of the community who did know Mack showed up to support his family. The viewing was yesterday and today at Wade Funeral Home on Radcliffe Street. It was there that a large contingent of troopers  set up outside while Attorney General Josh Shapiro quickly scurried inside to pay his respects. He was the only official from state government invited. The governor was not invited and did not show.
After the troopers got to pay their respects,  local officers from municipal departments were brought in. For the remainder of the day, until about 9:00 PM, members of the community showed up. along with other officers from the region.  There were at least two mounted officers stationed out front of the funeral home at all times.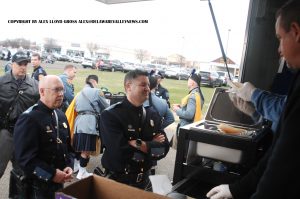 The funeral was held at Saint Michael the Archangel which is on Levittown Parkway, in Tullytown.. By 9:30 AM the parkway was closed to vehicles not involved with the funeral. If officers were going to the graveside service, they would be part of the cortege and park in St. Michael. If they were not, they were directed to park across the street. It was there, in the Levittown Shopping Center that hundreds of patrol vehicles were seen.
Prior to the service, a small child from Ohio showed up to show his support from local police. He was driven by his father, 12 hours, where he greeted the officers he could see with a small token of appreciation, as he wheeled around in an electric toy car with a Blue Line Flag flying from the back..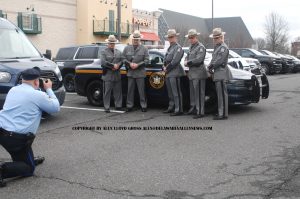 Set up in the parking lot to feed the officers was a trailer from the New Jersey State Police Benevolent Association. They served hot dogs and snacks.  At the funeral home on Radcliffe Street, Members from the Delaware County  FOP showed up with their trailer to feed attendees there.  The officers traveled a long way and the food was a welcome respite. Prior to the service, some officers traded patches with each other and struck up new friendships.
As the hearse arrived, officers and Troopers were in positions. Some departments sent one or two members. Others,  especially those closer were able to post up a larger contingent of several hundred officers..  Not everyone would be able to go into the church for the service. There was a jumbo tron set up next to Saint Michael's, to afford those outside a view for what was going to happen. Many people stood and watched it.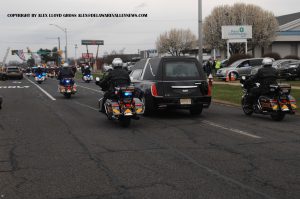 Martin was remembers as a great trooper and even even better father. At times his wife, Stephanie. said "I will remember my hero as an amazing father, best friend, and my filter, my sounding board and my husband." Mack said. "The girls were incredibly lucky to have you even if that time was cut incredibly too short."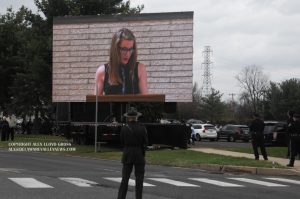 He was carried out of Saint Michael the Archangel by fellow Troopers.  A large funeral procession made it's way down Levittown Parkway, and eventually to Route One, where he was laid to rest at a nearby cemetery.