Rick Ventura Reads You The RIOT Act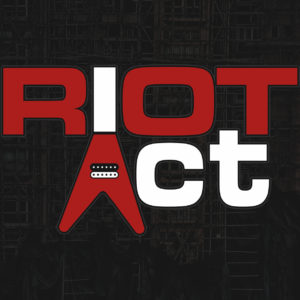 Rick Ventura Reads You The RIOT Act
---
by Alex Lloyd Gross
Did you ever pick up a new CD  that is so damn good, you don't want to take it out of your CD player?  That's the case with the new band RIOT ACT.  They have a double CD, called  Closer To The Flame.  If you grew up on 80's hard rock, you may remember the band RIOT.  This is the new incarnation of that band and it features original member Rick Ventura  on guitar.
RIOT last played the Philadelphia Spectrum on June 27, 1982,opening for The Scorpions and Rainbow.  That was about the height of their popularity, with lead vocalist Guy Speranza, being replaced by Rhett Forrester. .  From that era of the the band, the first CD contains several tracks that are the band's classics. Such as "Overdrive", "Swords and tequila" and "49er".  The second CD on the release contains original material.
This band was break to break in 2020 and then COVID hit and shut down everything. "We played our first show,  it was not really a show, it was two songs, but (DJ ) Eddie Trunk loved it.", Ventura said. This was in Anaheim California at the Heavy Metal Hall of Fame Gala.   With touring out of the question, and a virus sweeping the country,  Lou Kouvaris, another founding member from RIOT and RIOT ACT  died from the virus. In fact, the 12 tracks included on this record of the re makes are the last recording from Lou.

The band recorded virtually, a video for "Overdrive" to critical acclaim.
"After Lou passed, I started doing a lot of demos at home, and send them out to the band. Every once in a while, the three of us would get together, and try out the ideas.  Our new singer, Don Chaffin was working with them and I kept asking him to send me a snippet, "Tell me what you're doing here, but I would never hear  back. He waited until it was completed", before he let his other band mates hear it.
"We finally got into the studio and recorded our first single, "Wanted", and the first video. That really captures what the band is about, the energy, just hard driving rock and roll.
Soon, according to Ventura, songs just started coming out. "Before we knew it, we had 10 songs". He hopes to be able to take this band on the road and play live.
There is an immense interest in this kind of music, and hopefully , that translates to a tour that will bring them to this area. For right now they are doing a tour of Europe.  You can order merch and also a copy of the CD from the band's website. This band's fans are of the age where they want physical music, as opposed to downloads. you can also check Amazon, if your local music store does not stock it.