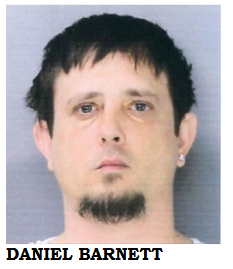 Accused Child Rapist Arrested In Montco For 20 Year Old Rapes
---
by Alex Lloyd Gross
A woman, now 29 years old reported to Plymouth Township Police that from about 1997 until 2003 her brother had a friend named Daniel Barnett, who was a decade older than her raped her and has sexual assaults with her over 100 times.  The victim claims that Barnett progressed his assaults gradually. First he would touch her over her clothes, then getting bolder as time went on, culminating with rapes and other assaults.
Barnett,  has been charged in Montgomery County  with  20 first–degree felony counts of Rape of a Child, Involuntary Deviant Sexual Intercourse With a Child, Aggravated Indecent Assault, Indecent Assault and related charges. He was arraigned on April 13, 2022 before Magisterial District Judge Maurice Saylor, who set bail at $1 million with additional conditions of no contact with the victim, children or disabled adults. Barnett was unable to post bail and was remanded to the Montgomery County Correctional Facility. Common Pleas Judge Henry S. Hilles III held a bail review hearing on April 14, 2022 and left the bail amount unchanged.
"This defendant was repeatedly sexually assaulting a very young girl for years," said DA Steele. "We are continuing to investigate, and anyone with information about this assault or any other criminal behavior related to this defendant is asked to call Plymouth Township Police at 610–279–1901.