Budweiser Clydesdale Horses March In Bristol Borough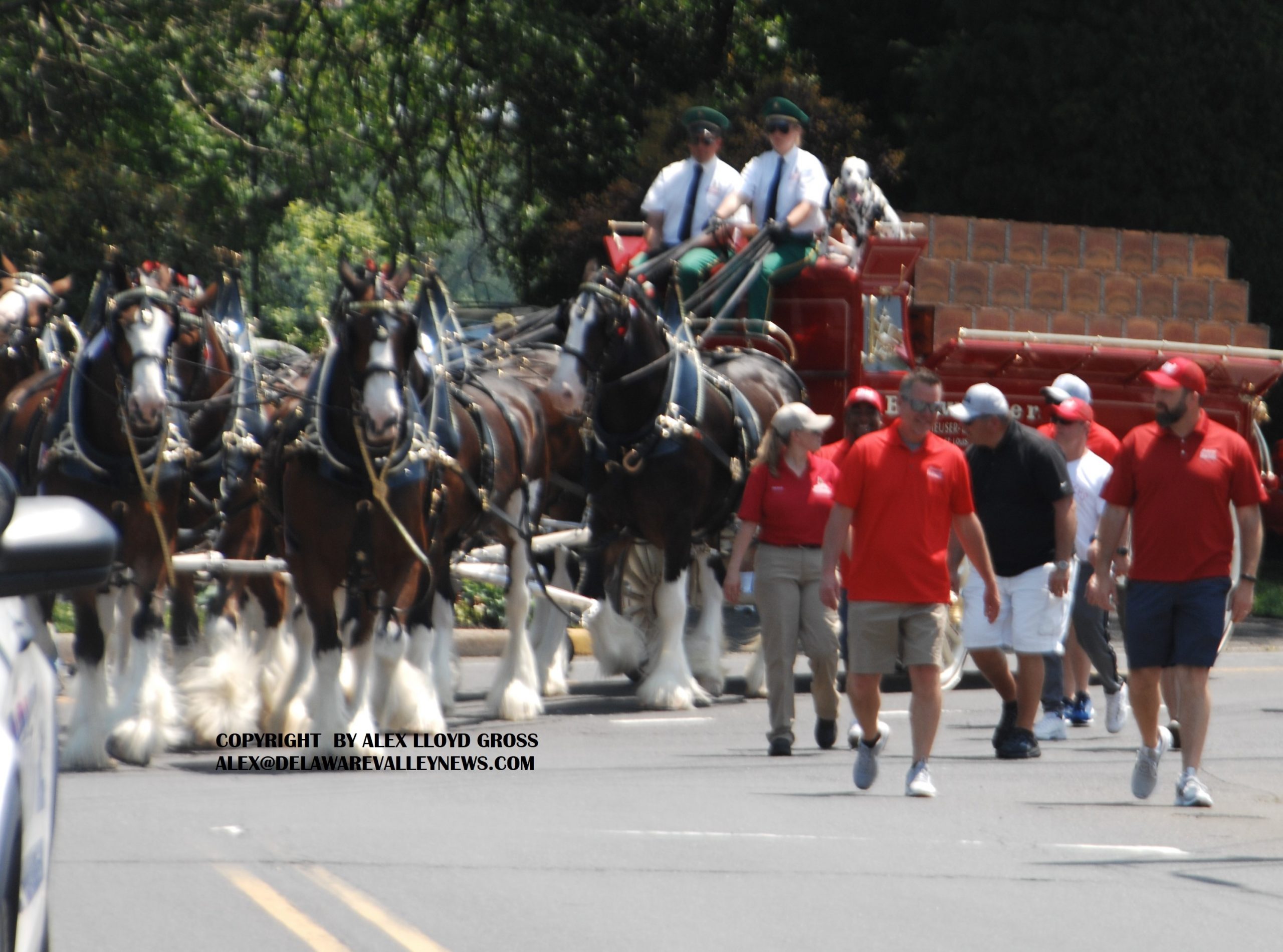 Budweiser Clydesdale Horses March In Bristol Borough
---
by Alex Lloyd Gross
May 22, 2022
What a great day to be outside. A little hot but we have seen hotter weather.  It's a great day for a parade and that is exactly what thousands of people saw in Bristol Borough this afternoon.  The Budweiser Clydesdale Horses returned and marched to the Bristol Wharf area.  The last time the horses were in town was 2016.
By noon, trucks carrying the horses arrived at an industrial parking lot, where the horses and the carriage was unloaded for media and a few select members of the public.  It takes about an hour to set everything up. It's a spectacle . Each horse is brushed and then brought to get hooked up to the carriage that will take them down to the destination.
According to Budweiser representatives, there are three teams of eight Clydesdale Horses that tour the United States.  Beverage suppliers contact the brewery and make arrangements to have to horses come to their town. A parade will only go for a few miles. Then the horses get packed back up and trucked to the next town.
For the people working with the horses, that is a full days work.  In these times everyone has a camera, and everyone wants a photo with the horses. During set up, a few family members of the  local sponsoring distributor  get to take photos with the horses.
The parade kicked off about 25 minutes after it was supposed to start.  Escorted by police and firetrucks, the horses were lead up Radliffe, Street, to Farragut via Green Lane.  They were on their way to the wharf. people of all ages showed up to watch the horses. Within a few minutes, they had passed and most went about their day. A few decided follow to the wharf to watch the horses get put back on their trucks.
The Clydesdales  are brought out for many sporting events, from championship parades to opening day festivities.  At times, the group of eight horses will be broken up and a distributor will get to have a horse in from of their shop for an hour or so.