Senator Bob Casey Comes To Philly To Announce $25 Million For Road Improvements
Senator Bob Casey Comes To Philly To Announce $25 Million For Road Improvements
---
by Alex Lloyd Gross
United States Senator Bon Casey (D-PA)  came to North Philadelphia today to announce that he was able to secure $25 million in funding to improve roads in high crash corridors across the city. he met the press just after 10:30 AM near Broad and Tioga Streets . Just outside Temple University Hospital.  This is the hospital that a lot of people injured in car crashes are taken to.
The "Great Streets PHL" project will pay for new roads,  ADA curb cut outs and other improvements officials said. The work is slated to start in 2025.  "It's important to use American made products and pay people prevailing wage", Senator Casey said.
While most of the  improvements are going to take place in the North and West Philadelphia area, the area from Longshore Ave. to Frontenac Street is in the Northeast.
The full list is as follows, not including the above.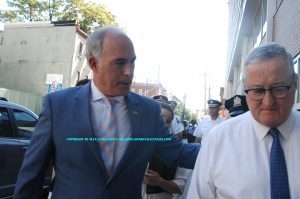 Tioga from 5th to 15th Streets
11th from Master to Diamond Streets
Limekiln Pike from Medary to Haines Street
Westminster Ave from 40th to 52nd Streets
Springfield from 51 to 57th Streets
North 57th from Upland to Wynnefield Streets.
While street paving and other improvements require little or no public input,  the public will be consulted, before the work is started, officials said, during the announcement.
The roads were identified as some of the most dangerous roads in the city.  Each of the above corridors is a High Injury Network  area which has resulted in deaths and serious injuries from crashes .
Senator Casey spent a few minutes before and after  the announcement meeting constituents  and hearing their concerns, many of whom work at Temple Hospital.