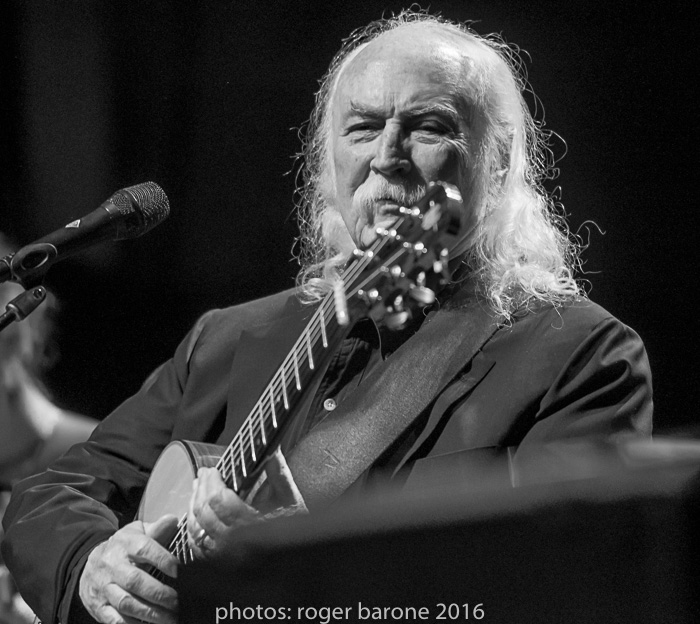 David Crosby visits Glenside
---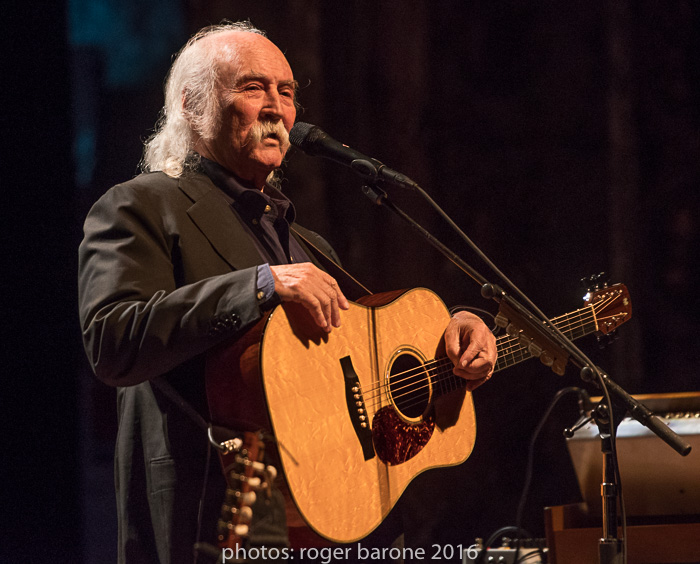 DelawareValleyNews.com Staff
DEC. 9, 2016
David Crosby is 75 years old and has enjoyed unimaginable success and unimaginable turmoil during his life. From a wealthy world-renowned rock star to an out-of-control convicted drug addict, Crosby is still going strong, having resolved his twin peaks of extreme into a pastoral place of performance .
David Crosby, accompanied by Michael League (guitar, bass), Becca Stevens (guitar, mandolin) and Michelle Willis (keyboards), opened the show with a couple of songs from his recently released Lighthouse recording. Afterward shouting with a beaming smile, "it's so great to play new shit," an obvious reference to the creative freedom he enjoys while distanced from the Crosby, Stills, Nash and Young cooperative.
Crosby, warmed in appearance by amber lights introduced "Laughing" a song from his first solo album, with a story about George Harrison, whom he befriended while a member of the Byrds.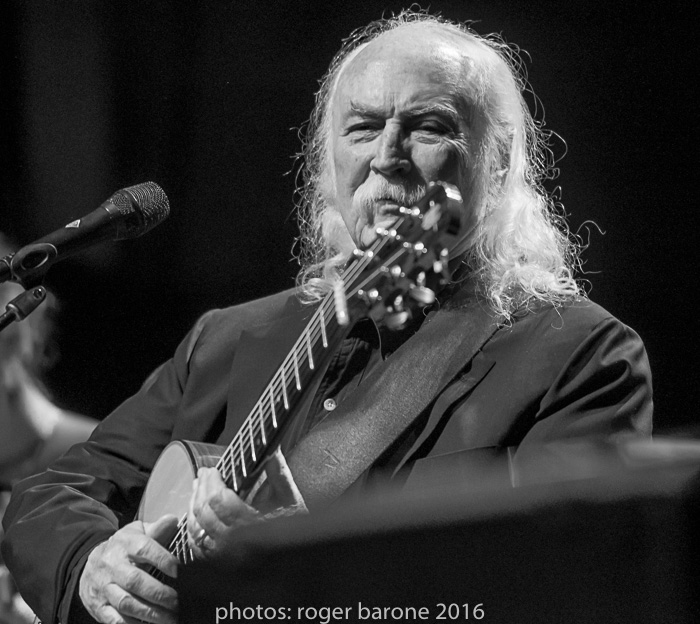 The first set concluded with four more songs from Lighthouse with Déjà Vu closing it out,
Crosby was happy. Appearing as a proud PaPa pleased with the performance of his younger bandmates, Crosby encouraged them to showcase their individual unique talents, but they well aware that David Crosby's name was featured on the marquee.
Crosby, who doesn't "sign anything" for fans indulged in some playful huckstering before the intermission, warning the near sell-out crowd that "If you don't have Lighthouse, you don't have [anything]."
The second set opened with "Orleans" another song from his first solo album, co-written by Paul Kantner, followed by "Carry Me" from the first Crosby/Nash album. Crosby stood alone with an old Martin D-45 guitar as he spoke of losing his mother.
Crosby, a politically inspired songwriter who "hates" politicians, smiled as he invited the audience to "talk politics" seguing into "What are their names" also from If I Can Only Remember My Name his first solo work. While revealing his preference for Bernie Sanders in the 2016 Presidential campaign, someone shouted "F–k Trump."
Crosby didn't laugh, nor did he acknowledge the comment with any testament of credibility. The Crosby of today rebuked the obscenity with a polite admonishment: "It doesn't do us much good, to bash one another."
After a few more songs from Lighthouse, Crosby performed "Guinnevere" one of his favorite songs from the first CSN album.
The evening ended with an abridged version of "Woodstock" and 1,000 fans left the Keswick feeling the love and peaceful easy feeling that a night with David Crosby provided. Or as Crosby said earlier in the evening after a song by Michelle Willis, "That was fxxxen great!"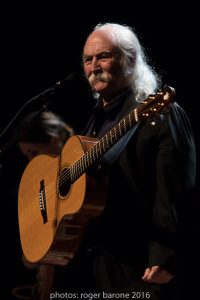 KESWICK THEATER SET LIST:
THINGS WE DO FOR LOVE
THE US BELOW
LAUGHING
SOMEBODY OTHER THAN YOU
PAINT YOU A PICTURE
LEAN ON
SOMEBODY HOME
DÉJÀ VU
……………………………………………
ORLEANS
CARRY ME
WHAT ARE THERE NAMES?
LOOK IN THEIR EYES
THE CITY
PERSIMMON
GUINNEVERE
BY THE LIGHTY OF COM. DAY
WOODSTOCK (ENCORE)