Grinding crash sends two people to hospital in Northeast Philadelphia
---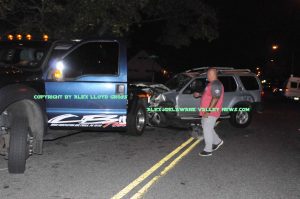 By Alex Lloyd Gross
Philadelphia Police are looking into the possibility that one driver  might have been under the influence of drugs during a grinding crash at Comly and Norcom Roads in Philadelphia November 1, 2017.  One vehicle was traveling on Norcom, the other , as passenger car was going straight on  Comly Road just after 6:30 PM, when the wreck happened. Both drivers were rushed to area hospitals .Their condition is serious but not life threatening.
One vehicle came to rest halfway down Norcom Road, after it slammed into two parked cars.  The other was on Comly Rd.  Small glasine baggies, commonly used to carry drugs were found in and around  an SUV that was involved . Cops could notdetermine at the scene if the driver was high or not while operating the vehicle.. The twoparked vehicles sustained heavy damage and may be total losses.
Comly Road was closed for a short while in the vicinity of the accident.
THIS CONTENT IS COPYRIGHT BY DELAWARE VALLEY NEWS.COM AND MAY NOT BE REPUBLISHED IS ANY MEDIUM WITHOUT PERMISSION. FOR PHOTO REPRINTS CONTACT AL**@DE****************.COM