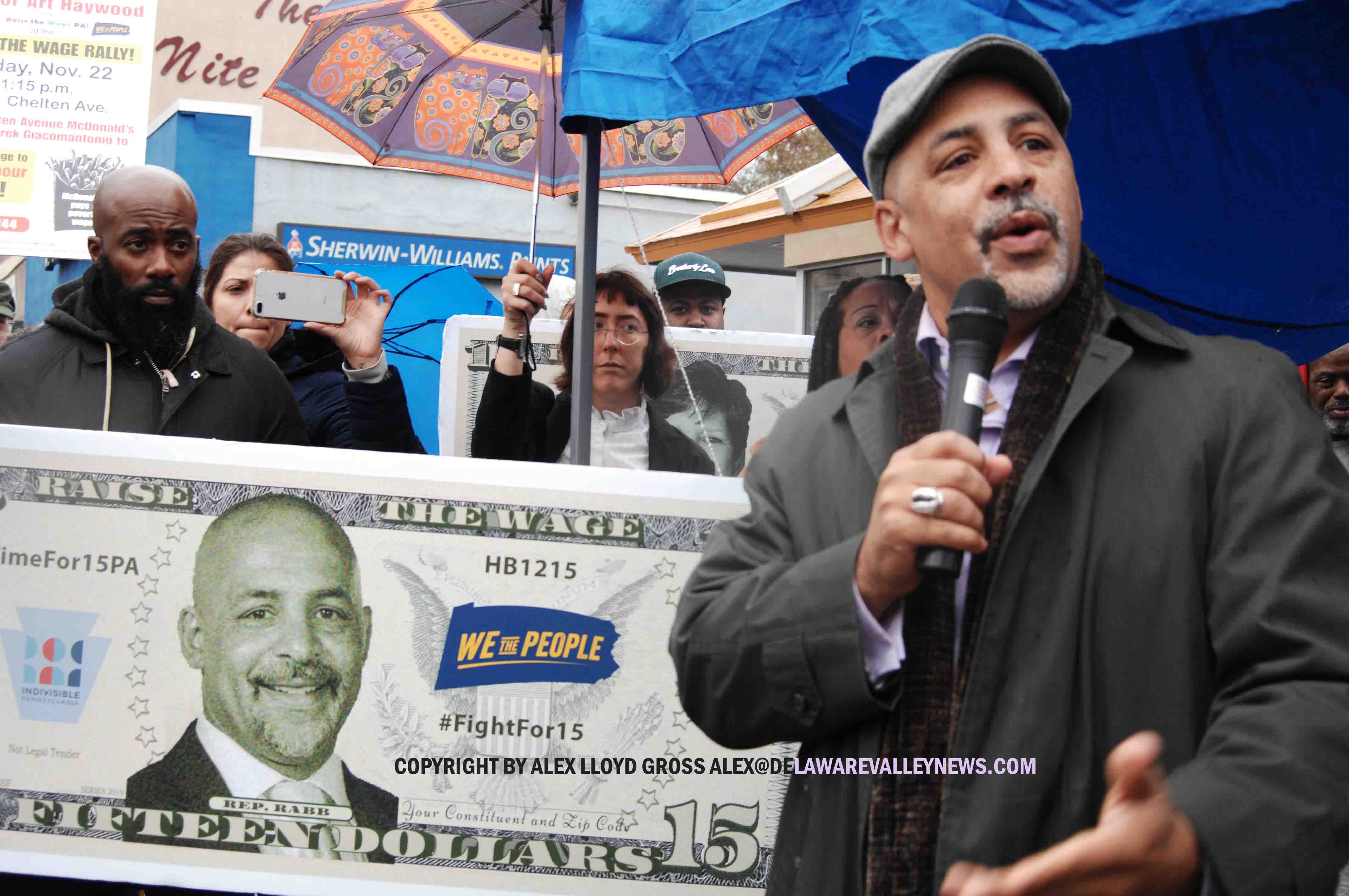 Senator Art Haywood Returns To McDonalds For Another Minimum Wage Rally
---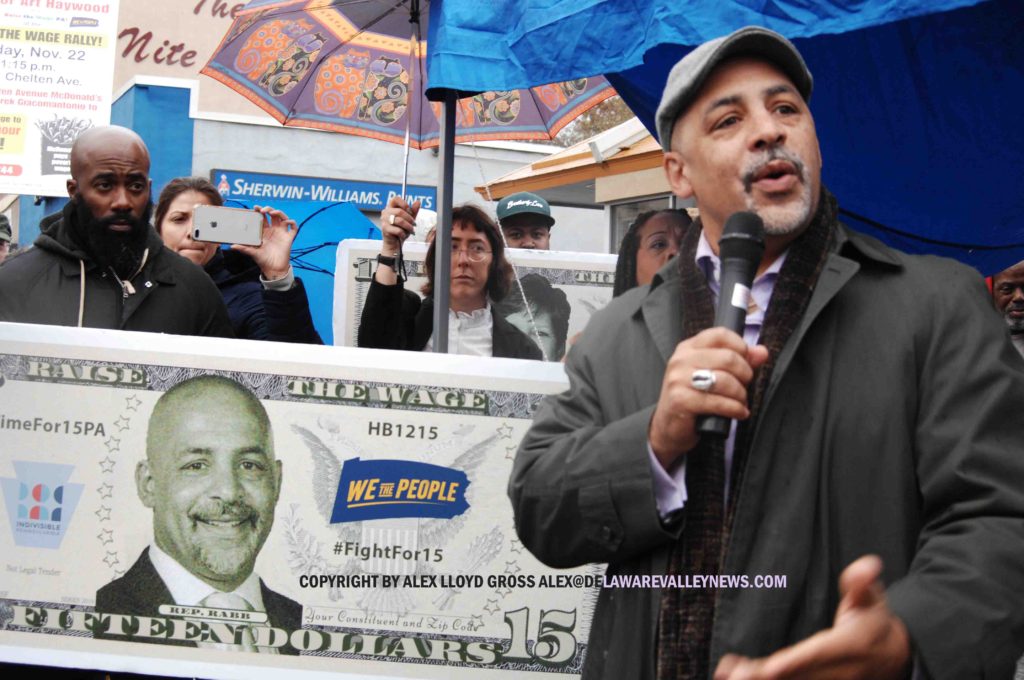 By Alex Lloyd Gross
This week, Senator Art Haywood (d)  voted for a raise to the state minimum wage to $9.50/hr.  Two days later, he was back at the same McDonalds on Chelten Avenue, demanding the house take up the issue before years end and also to demand yet another increase, to $15/hr for working Pennsylvanians.  This is the same McDonalds that he has been at previously. The owner, Dereck Gacomamtonio does pay his workers at least $7.25/hr  and is not breaking any  labor laws.  However, Senator Haywood and multiple  action groups and attendees say they are under paid.
The same can be said for more than 300,000 workers across the state,. Haywood, and his fellow senators are pushing for the house to consider this bill. Representative Chris Rabb  showed up to the rally along with Senator Vince Hughes. They want the House Labor and Industry  Committee to take up this bill. "The house just passed three days of legislation ,  and this was not on the addenda," Rabb said.  He added this can be voted on in a matter of "minutes". Once it is out of committee,  the full house can vote on it,  as soon as speaker Mike Turzai presents it.
When the number of (717)  772-9943 was read to the crowd, many dialed. This is a direct line to Speaker Mike Turzai's office.  This crowd told the speakers staff that they wanted this bill voted on. Woe to the legislators that would take a bill like this and put it on the shelf. They place their own career and the careers of fellow same party house members in jeopardy.by not letting it be voted on.  "Election day is less than a year away,"Hughes said.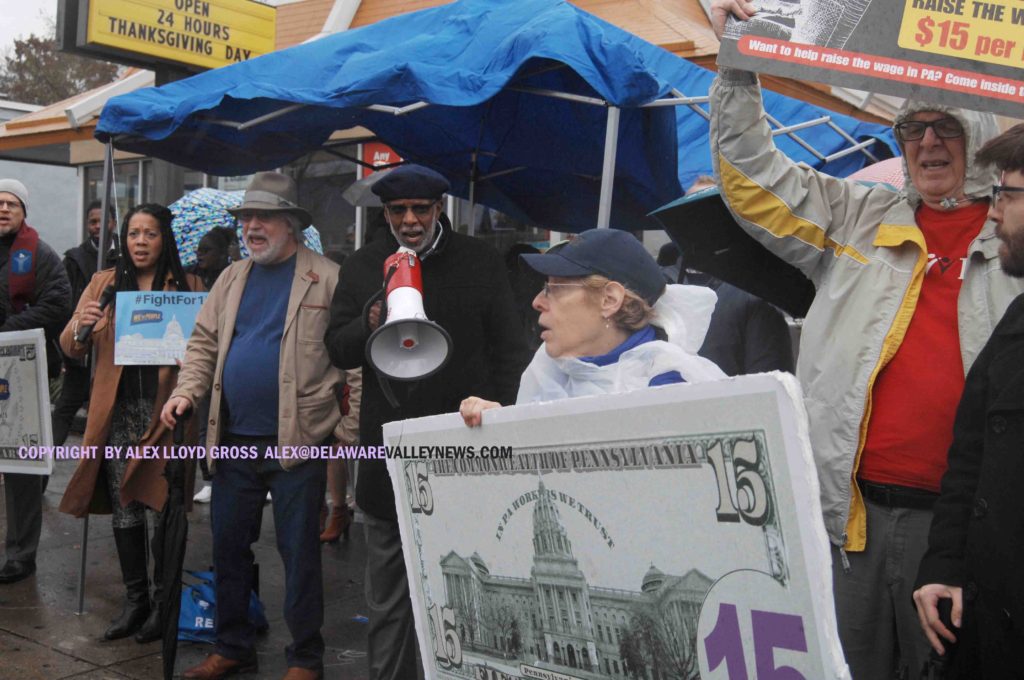 Assuming this bill passes, Governor Wolf promised to sign it.  Even still,  Senator Haywood said that by the time the full rate of $9.50/hr is realized,  Pennsylvania will be behind neighboring states by $2.00/hr. on average. That is why he organized this rally. It was cold and rainy yet about 100  people showed up  on a chilly Friday afternoon. As the speakers made their remarks, multiple people honked their car horns as they drove by..
The senator plans to have a meeting with local McDonald's owners in hopes of convincing them to pay their  workers more.  It must be noted that it cost the same amount of money to open a franchise in PA as it does in NJ.  The Garden State has a wage that is on it';s way to $15/hr, and prices inside those establishments are about the same in Philadelphia.
When this publication called Speaker Turzai's office, we were told  by the front office staff they hope this bill would be put to a vote in December.