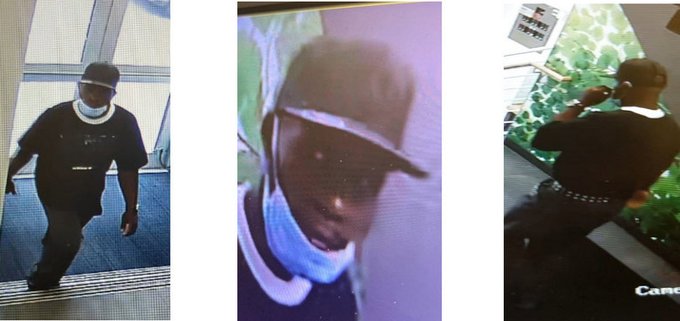 Was Law Office Rapist Seen In New Jersey?
---
by Alex Lloyd Gross
Jul;y 7 2022
Philadelphia Police are looking for the male who walked into a center city law office and raped a female employee.  This happened during the afternoon of July 5, 2022 at 2:14PM.  A lot of businesses were closed for the holiday, taking an extra day. This firm was not one of them. They were hard at work  when the rapist strolled in the front door.
He was caught on security video walking around, checking to find unlocked doors. When he found one on the  8th floor,  he went inside and forced the employee to sit in a chair. Police said he was aggressive and she tried to coax him to leave by offering Airpods  and other items.  This enraged him more and he assaulted and raped her. He only left when a co worker arrived back from lunch.
As with most criminals, he is not too smart. Watch him enter the building and walk around center city with his mask down.  Watch him touch the banister in multiple  places with his bare hands. Now multiple law enforcement sources say he may have been spotted in Woodbury New Jersey, where he possibly took a bus to Philly. He was spotted the next day, wearing the same clothes.
Suspect Description: The male is believed to be in his late 30's to early 40's, with a dark complexion. He is approximately 5'8 with a medium build. He was wearing a light blue surgical mask, black flat brimmed baseball cap with silver sticker on the right side of the brim, black Adidas t-shirt with design, dark jeans with a black belt that had numerous silver eyelets and a silver buckle. He also has a large face watch with a brown band and dark-colored sneakers.
If you see this suspect do not approach, contact 911 immediately.
To submit a tip via telephone, dial 215.686.TIPS (8477) or text a tip to 215.686.TIPS (8477).
All tips will be confidential.
If you have any information about this crime or this suspect, please contact:
Special Victims Unit:
215-685-3251/3252
DC 22-06-028377