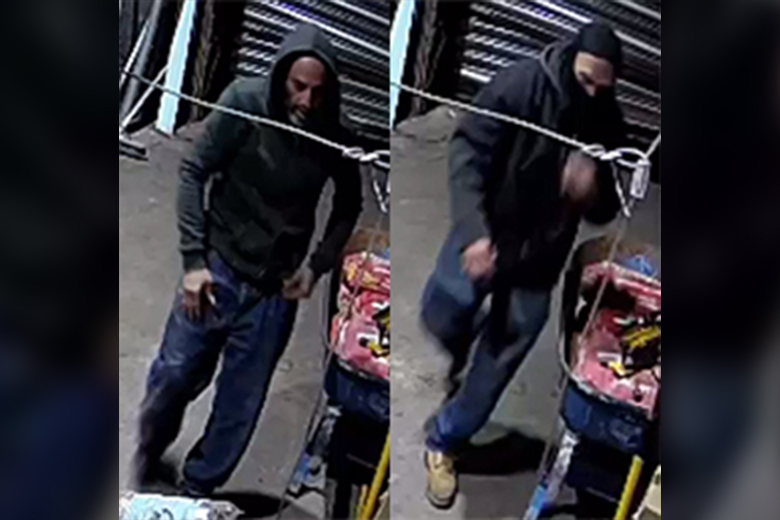 Port Richmond Thieves Steal Tools From A Garage
---
by Alex Lloyd Gross
Oct 19, 2022
Pawn shops are on the lookout and so should you. Two males may try to sell stolen tools from  C & H Landscaping on Venango Street  after they broke into the garage by forcing their way inside. This happened at 12:47 AM on October 11, 2022. By now, they may have tried to sell these power tools cheap to turn a quick buck. It is stolen property.

You can watch the video below and you will see they do not know how to properly handle tools. They are tossed around, and one of the thieves even smashes the item he is stealing on the ground as he is too weak or lacks the intelligence to free the item from where it is being stored.   You can see for yourself, they walk in and cannot believe they are inside. They have no idea where anything is. They run around trying to find things to steal.
Stolen was 3 Sthil chainsaws, 1 chop saw, 1 weedwhacker and 1 stick edger. The equipment is valued at $4150. If someone buys anything from these guys, it's doubtful they will give refunds when the tools break from the misuse at the hands of these two.
f you see these suspects, do not approach, contact 911 immediately.I
To submit a tip via telephone, dial 215.686.TIPS (8477) or text a tip to 215.686.TIPS (8477).
All tips will be confidential.
If you have any information about this crime or these suspects, please contact:
East Detective Division:
215-686-3243/3244
Det. Sherwood #714
DC 22-24-060102