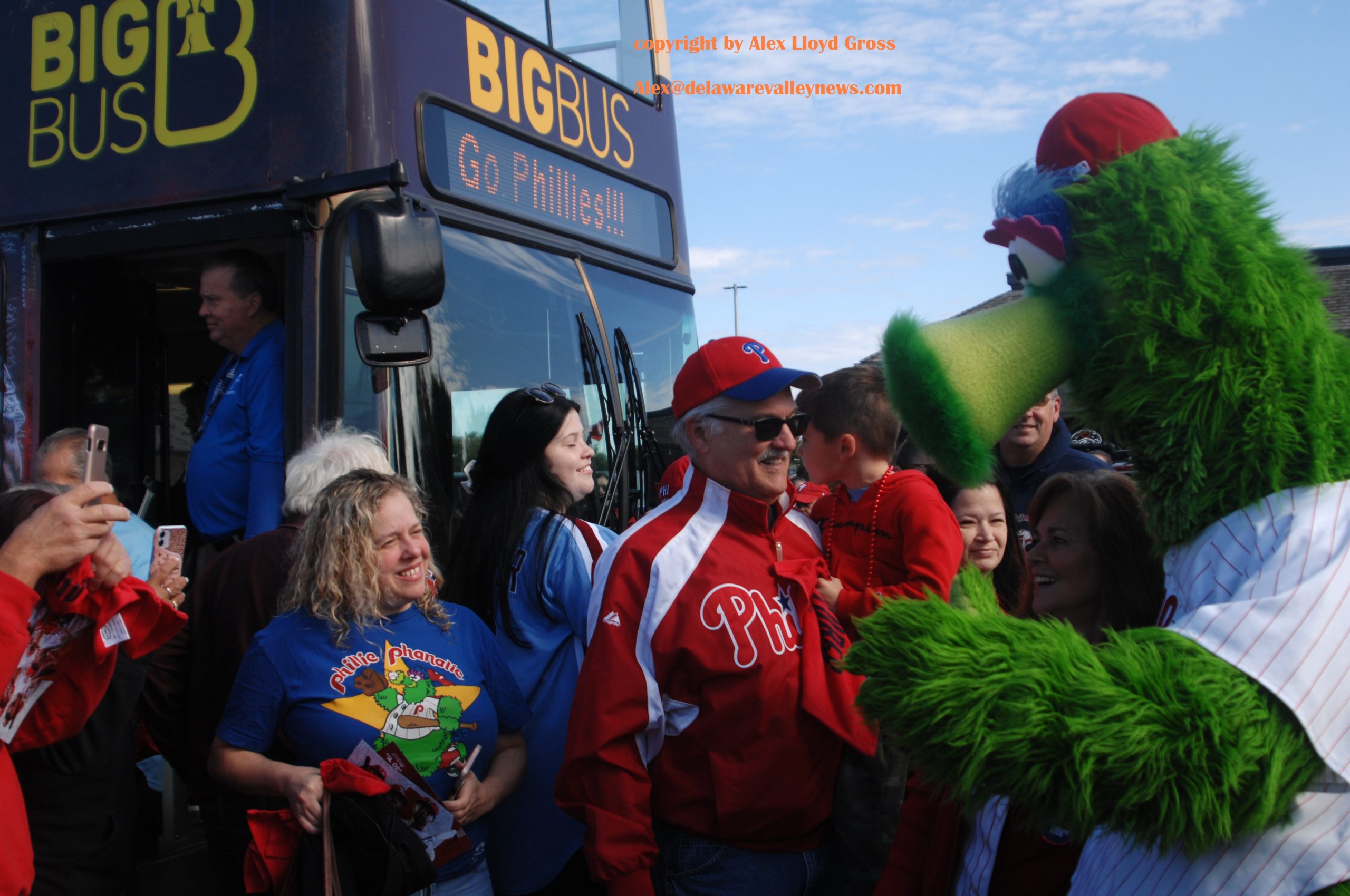 As Phillies Keep Winning Phillies Phever Keeps Spreading
---
by Alex Lloyd Gross
The Phillies keep winning the games that count and they keep advancing . The team is on fire. Fans have bought every ticket there is and they want more. Pop up rallies are taking place, along with block parties and even the Phillies have gotten involved with a rolling bus that visits different places in the Delaware Valley.

This is not a parade, that could come later. This bus has a police escort and is stopping at businesses and places of interest.  It has another run on Thursday . Here is the schedule.
9:15 a.m.          P.J. Whelihan's (700 North Haddon Avenue, Haddonfield, NJ 08108)
11:00 a.m.        Comcast Center Plaza (1701 John F. Kennedy Boulevard, Philadelphia, PA 19103)
12:30 p.m.        Rittenhouse Square (10 West Rittenhouse Square, Philadelphia, PA 19103)
1:30 p.m.          Philadelphia Museum of Art (2600 Benjamin Franklin Parkway, Philadelphia, PA 19130)
2:30 p.m.          The Porch at 30th Street Station (2949 Market Street, Philadelphia, PA 19104)
3:30 p.m.          Franklin Square (200 North 6th Street, Philadelphia, PA 19106)
4:00 p.m.          Kimmel Center (300 South Broad Street, Philadelphia, PA 19102).
When it stops, it's only for a brief time. you can get rally towels and other trinkets that will get tossed out by Phillies ball girls or the Phanatic. Fans can also sign the bus.
This is Citizens Bank Park after the team beat the Braves. It's so loud you can hear it for blocks.  The city is pre planning for large crowds. At Cottman and Frankford Ave. Police have requested alcohol be served in cups and shop keepers to put gates down should the team win.
Hre is a story we did on previosuly on the bus route.