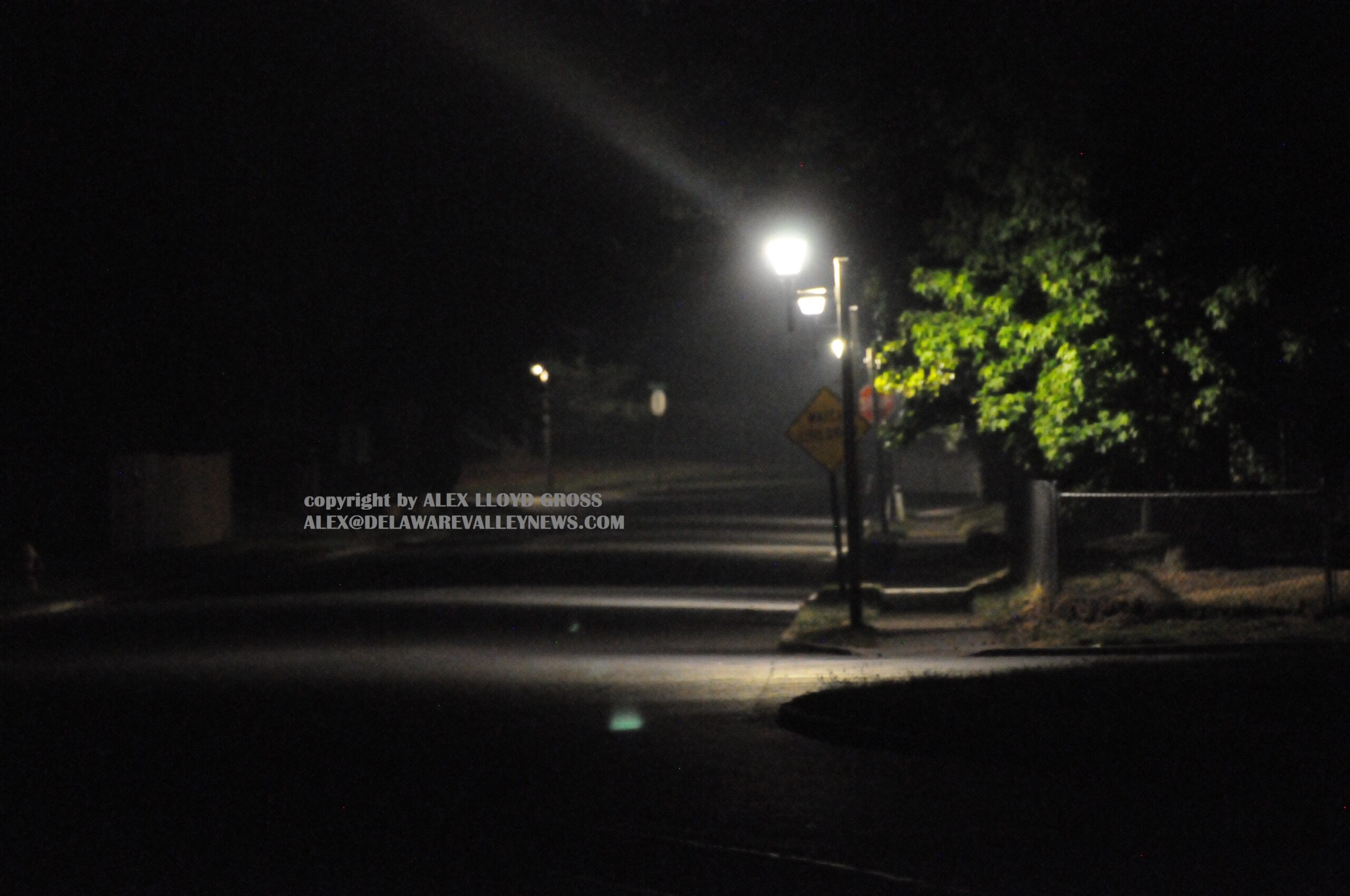 Smoke From Nova Scotia Wildfire Results In Poor Air Quality In Philly Area
---
Alex Lloyd Gross Photo-Delaware Valley News.com  The smoke made a view down a neighborhood street hazy.
by Alex Lloyd Gross
June 7, 2023
A very large wildfire is burning in Canada.  With fire comes smoke and that massive amount of smoke has gone up into the air . Weather conditions such as low pressure systems and the jet stream have forced that smoke south into this area.  The saying of weather is local and climate is global will explain why some areas will experience denser smoke than others.   At the Phillies game, smoke could be seen all around the ballpark and even caught the attention of the on air announcers.  In other areas,  the smoke was harder to detect, almost non existent.
The Philadelphia Health Department  and multiple county agencies have issued air quality warnings.  This includes some common sense tips, such as limiting your exposure of outdoor activities and not idling a vehicle more than you have to. Avoid using out door fire pits and do not start campfires.
If you must go outside, avoid excessive activity, such as jogging or running, and wear a mask, if available.
Close all windows and doors to minimize air pollution in your home.
Recirculate air with fans to avoid bringing more air pollution into your home.
Avoid areas of high congestion and where air pollution may be high (e.g., main streets or highways, areas with low circulation).
People with underlying illnesses should monitor for symptoms, including trouble breathing, nausea, and dizziness. If these symptoms occur, seek medical attention as soon as possible.
Residents are also advised to keep an eye on the situation and change their behaviors based on the amount of smoke in the air. The Health Department publishes real-time air pollution readings at
https://www.phila.gov/aqi.  
Wildfire smoke contains fine particles, also called PM 2.5. This is one of the pollutants that the Health Department monitors during large fires in Philadelphia. PM 2.5 are tiny particles in the air that reduce visibility and cause the air to appear hazy when levels are elevated. PM 2.5 refers to tiny particles or droplets in the air that are two and one half microns or less in width. The widths of the larger particles in the PM 2.5 size range would be about thirty times smaller than that of a human hair. PM 2.5 can be dangerous because if you inhale it, the particles are so small they can go deep in your lungs.
The region will continue to expirience poor air quality for the next several days and it can continue through the weekend, officials said.