Ted Nugent Brings His Show and His Politics To Town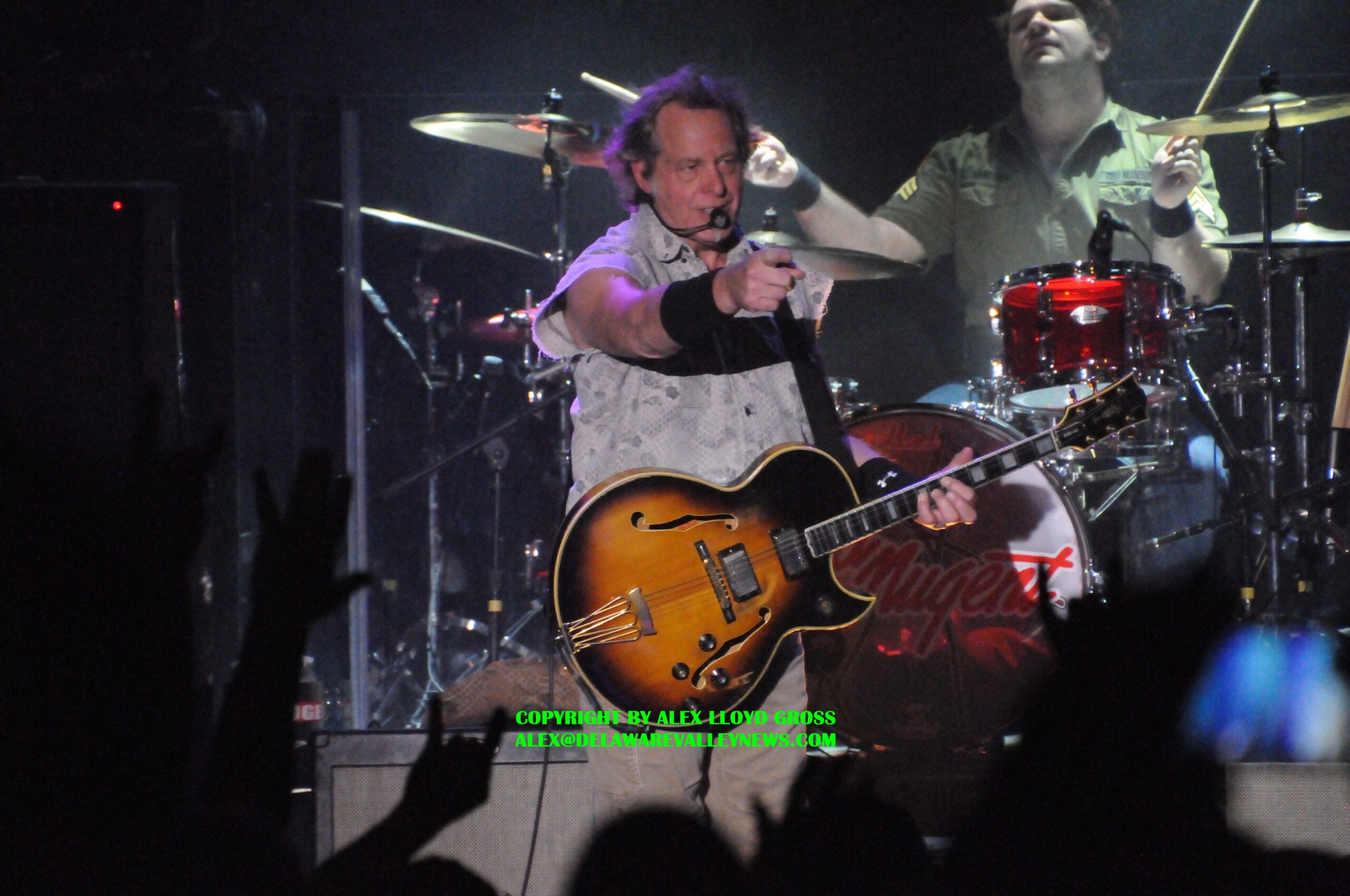 Ted Nugent Brings His Show and His Politics To Town
---
by Alex Lloyd Gross
July 27, 2023
Ted Nugent played his last show in the area last night, at the Keswick Theater in Glenside.   It was just about sold out.  With Ted Nugent, there is no middle ground. His politics share the stage with him. If you don't like it,  leave.   Ted is just fine with that.   The people who paid money to see him came to hear his songs and hear his politics. When asked Do you feel your strong political stance has hurt your career? he stated Work ethic and staying true to one's belief system is imperative.  I am perfectly comfortable with my musical achievements and real rockers have always been there for me. 
Ted's politics are not for the faint of heart. Calling Whoopie Goldberg  "Michael Moore in blackface" and calling out federal agents who he despises for not having the backbone to stand up for the United  States constitution.  Uncle Ted as he his known commanded the stage and switched guitars many times. He played some of the songs he was expected to play, such as "Stranglehold", "Fred Bear"  and "Paralyzed" from 1979's State of Shock album.
Nugent opened the show with the National Anthem, which brought all able bodied fans to their feet, which is where they remained for the entire show.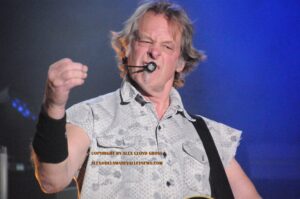 He did not play "Scream Dream,"Wango Tango"  which were huge hits in 1980. He also did not play "Bound and Gagged", which the lyrics are still as true today as they were in 1982." I love songs with powerful dynamics and intense rhythm throttle, and all my songs deliver those forehead vein popping crescendos! My music is so much fun to unleash its crazy!", Nugent said
Perhaps if he would stop talking politics and just play music, more people would come around to and enjoy his music. That won't happen anytime soon. "Music is the great connector, and my music is the best damn music there is. Anyone not having fun with us is weird.", Nugent said.

This is Ted's last tour.  For his fans, it truly sucks because they could look forward to seeing his yearly area shows. The audience for the Kewswick show was mostly males, from 45 to 70, most were conservative, based on their T shirts. Ted requested the services of the Abington Police just in case  a nut job was able to make their way to Ted. That never happened. Nugent spent zero time interacting with fans unless they paid for the meet and greet.  There were five fans waiting to meet him as he came in. He waved hello and then ran inside the venue.
Back in the day, Ted was always outspoken. His music was played on rock radio frequently but people on both sides of the aisle would flock to his shows.  Last night,  he made disparaging comments about people running for the presidency during his show. However, in spite of some stage decorations touting a run for the presidency, Nugent has no serious inclinations to run for office. " I currently perform the most important political duties an American has the responsibility to perform–I experiment in self-government on a daily  basis, fulfilling my "we the people" duties to monitor and guide our elected employees to adhere to their oath to the US Constitution and demand accountability from them. That is the purest form of freedom politics in the world and I am dutybound to turn up the heat constantly."he said.
There was nothing special about this show. He did not play longer, or more obscure songs (save for "Good Friends and A Bottle Of Wine".) The show lasted about 90 minutes.  Those who like Ted Nugent would think the show kicked ass.  Ted has a lot of talent and he showed it off  in Glenside.  He has enough material for two more hours of stage time  before going into his deep cuts.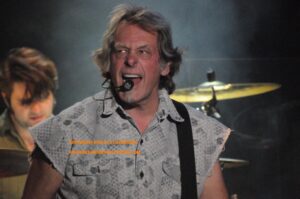 He had an opening band, that was nowhere on any billing for the show. Hillbilly Vegas, This band has two records out and they are good. Nugent fans are hard to please.  This band had 30 minutes to prove themselves and they did.   Prior to the show the band members could be seen walking around the parking lot, chatting with fans. They got a standing ovation at the end.
This is Ted's final tour. He made it clear that he is not retiring from music.  His full, unedited response is "Yes!  I am so overdue for uninterrupted quality time with my family and dogs!!! I unleash fury on my guitars everyday and will still perform fullOn Nugent rockouts with my killer bandmates here there and everywhere. I will continue to make music and xplore the uncharted territory on my guitar necks, but just won't hit the road to tour anymore. Did I mention that hotels are jail!  "