Trinity makes stop in Sellersville.
---
By  Alex Lloyd Gross
What happens when you get the lead singers of Judas Priest, Queensryche and Iron Maiden  on one  stage?  You get to witness history and that's exactly what happened last night, November 20 2016  at the Sellersville Theater.  This review could be finished with the word WOW.  Where else could you see Geoff Tate , and  Blaze Bayley  singing a Judas Priest song on stage with Tim Ripper Owens?
That's what happened. As the three would get time to do songs from their careers,  the other two would not be on stage. But then for some songs, the others would appear and join in.  As Tate did "Jet City Woman and "Empire", the crowd was into it. They are familiar with his songs and his style of singing. The same for Tim Ripper Owens. He has been around here before and always puts on a good show.  In fact, he recognized a few fans in the crowd, giving one his wristband and acknowledging another, who was very vocal in the front. "Good to see you again" he said.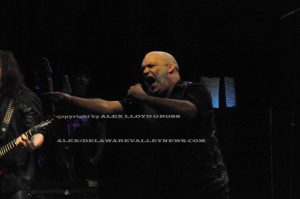 No one knew what to expect from Blaze Bayley. He had never played in Pennsylvania before.  Now we know why he got the name Blaze. He set that place on fire.  On stage, with exaggerated hand gyrations designed to get the audience attention and participation.  He was humble yet commanding on stage, telling the near sold out crowd that  "You are helping me live my dream right now".  He certainly took care of business as he played Maiden classics like "Fear of the Dark" and  "The Number of the Beast". Just who he is can be found on his website here.
During an interview, Tim Owens said they would play about two hours. When he was told that Bruce Springsteen played for four hours, he said "Yes but most people wanted to go home after two".  Had Trinity played for four hours, there would be no one wanting to go home early. This show was that good. After all,  there were tons more Queensryche  songs to be played, as well as Maiden and Priest.  Owens also broke out some Iced Earth.  After leaving Priest, he was a member of that band as well.
Blaze and Ripper are good friends and it shows on stage, as they refused to say nice things about each other, and got into an argument as to who was the Wrathchild, before laughing about it and breaking into the song. After the show, there was  a paid VIP reception. These two two kept it up during the meet and greet, making fun of each other signatures.  You can read the interview with Ripper here.