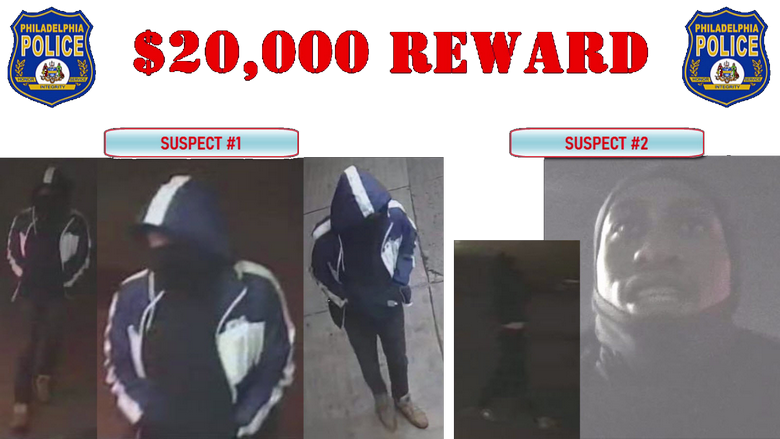 New Video Released In Shooting Death Of Police Officers Son
---
by Alex Lloyd Gross
April 19, 2022
Philadelphia Police have just released new video of a shooting that happened on January 24, 2022.  on Broad Street & Allegheny Avenue.  Hyran Hill, the son of a Philadelphia Police Officer was exiting a take out store after getting some food. Two males armed with guns  shot him and robbed him. They shooters identity has remained a mystery.  However, today,  April 19, 2022 investigators are several step closer to arresting those responsible.
Video was released showing the shooting and at least one male was able to be seen closely . In fact, body worn cameras captured the man's voice while talking with officers shortly before the shooting happened. police enhanced the video so people can see the shooters face. He is wearing a balaclava, however, it is pulled down exposing his face. He also walks with a distinctive limp.
Someone knows who these guys are and someone is going to be $20,000 richer, when they claim the reward. If you know who the male is, it might as well be you that gets paid.  It's just a matter of time before they are caught.
One male fired gun shots through his clothing, while the other drew his gun and fired shots. Hill worked as a bouncer at a local business.  He was shot nine times. Both shooters arrived and left in a stolen 2015 KIA Forte.
Suspect Description:
Suspect #1: Black male, wearing a blue hooded jacket with white stripes on the hood, chest, and arms of the jacket. He is also observed walking with a noticeable limp.
Suspect #2: Black male, unknown clothing description.
f you see these suspects do not approach, contact 911 immediately.
To submit a tip via telephone, dial 215.686.TIPS (8477) or text a tip to 215.686.TIPS (8477).
All tips will be confidential.
If you have any information about this crime or these suspects please contact:
Homicide Unit:
215-686-3334/3335
Det. Rios
DC 21-39-003848